Encyclopedia of capnograms
Bhavani Shankar Kodali MD
Esophageal intubation
Flatline as no carbon dioxide
The presence of CO2 in the stomach can give rise to fluctuations in the baseline.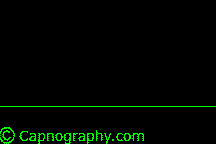 Occasionally enough alveolar gas can be forced down the esophagus into the stomach during mask ventilation resulting transiently in a few capnograms as below.
Carbonated beverages in the stomach can result in significant CO2 in expired gases during six breaths. However, the shape of capnograms should alert to a non tracheal intubation.
Lung transplant
Biphasic capnogram following single lung transplant suggesting characteristic differential emptying of each lung
Severe Kyphoscoliosis
Biphasic capnogram in a patient with severe kyphoscoliosis. Differential emptying of lungs. Inspiration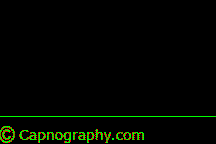 Endobronchial intubation
| | |
| --- | --- |
| Biphasic capnogram as a result of endotracheal tube in right main bronchus | Endotracheal tube pulled back above tracheal carina |
| | |
Downward sloping phase III
The slope of phase III can be reversed in patients with emphysema, where there is marked destruction of alveolar capillary membranes and reduced gas exchange.