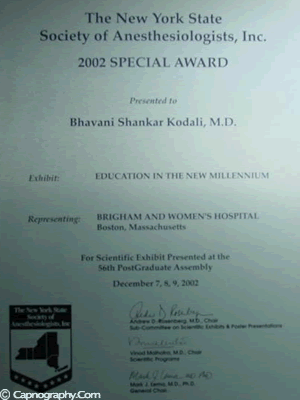 ---
 Dr. Bhavani Shankar Kodali from Brigham and Women's Hospital in Boston receives a 2002 Special Award for his exhibit titled "Education in the New Millennium" at the 56th Post Graduate Assembly in Anesthesiology held December 6-10, 2002 at the Hilton New York.
This educational website was also presented at the
American Society of Anesthesiologists Annual Conference held at
New Orleans, USA in October, 2001
and

Annual Conference of Anesthesia International Society held at
New Orleans, USA in March, 2003.
---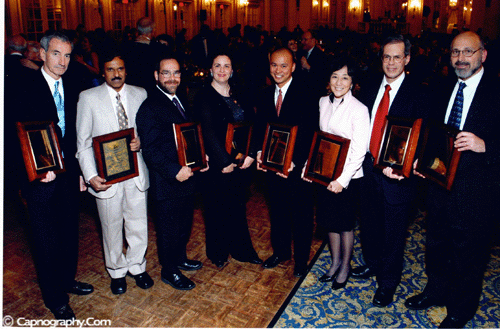 Bhavani Shankar Kodali MD was awarded Brigham and Women's Physicians Organization's
Physician Recognition Award for Clinical Innovation
November 13, 2004
Awarded plaque in recognition of service as Department Interim Chairman  2015
The Plaque reads ………
"We thank you for
hearing our concerns and ideas,
keeping an open door, mind and heart,
offering a reassuring voice of reason,
leading during a time of difficulty,
communicating with honesty and care,
advocating for our better future,
inspiring us to embrace change,
and keeping a sense of humor.

With deepest gratitude and admiration,
Department of Anesthesiology, Perioperative and Pain Medicine
Brigham and Women's Hospital"
2017 Distinguished Clinician Award
by Brigham and Women's Hospital, to recognize the most accomplished and most widely recognized practicing physicians on the BWH staff.
Teacher of the Year Award  – Society of Obstetric Anesthesiology and Perinatology – 2023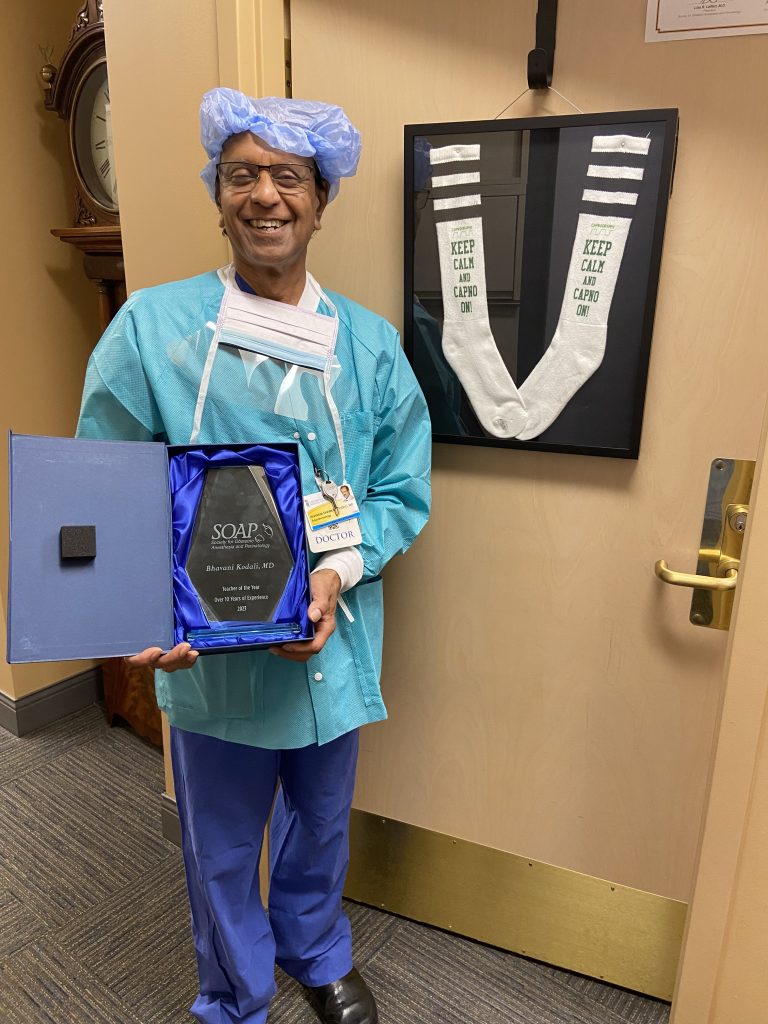 2023 Mackenzie / Imle Mentoring Prize 2023
The Prize is awarded annually to "outstanding faculty members demonstrating excellent mentorship with positive impact on professional development and career advancement in one or more of the following areas: clinical medicine, research, local and regional service, and teaching." 
In 2018, Dr. Kodali was recruited to the Department from his clinical position at Brigham and Women's Hospital where he had an academic appointment at Harvard Medical School, where he also served as the Interim Chair. Over the past five years, Dr. Kodali has continued the academic development of our divisional faculty and fellows, selflessly providing guidance and opportunities to participate in clinical research. As important, Dr. Kodali has presented multiple opportunities for our junior faculty to deliver lectures and be recognized by their peers as clinical experts caring for the all-too-often critically ill pregnancies presenting to our Labor and Delivery Suite.  
Hololens Guided Lumbar Puncture