Capnograph of this millennium
A vision to reality 
Bhavani Shankar Kodali. MD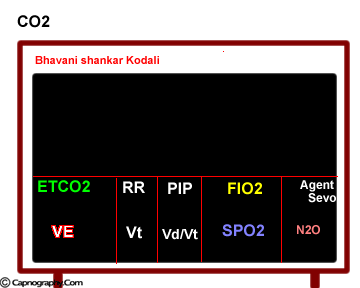 A vision of an ideal capnograph – Dated November 2000
 A side stream capnograph with the advantages of the mainstream capnograph seems ideal.
 Inspiratory and expiratory flow rates should be displayed above the co2 waveforms to delineate segments and phases of capnogram
  A capability of plotting a volume capnogram would enable the determination of physiological dead space.
 During a steady state, carbon dioxide status is a function of ventilation, and oxygen status is a function of inspiratory oxygen concentration. Therefore, the display should reflect this concept.
  Prevention of secretions being drawn into the capnography would markedly improve the ICU application of capnography
2017   
New Capnograph that can superimpose respiratory flows over time capnograms in real time using
side stream sensor technology
Simultaneously, it can display with volume capnogram and physiological dead space breath by breath.
You can also calculate Respiratory Quotient and Energy Expenditure.
This new technology can measure tidal volumes as low as 1-2 ml.